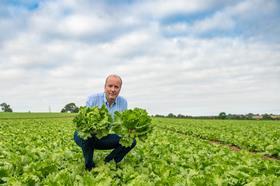 As PDM Produce draws closer to its 30th birthday, the Shropshire-based grower and processor must be pretty pleased with how things are going at the moment. Now 28 years in existence, the company really seems to be coming into its own, and despite the difficult trading environment – think retail deflation, rising labour costs and Brexit – these are exciting times for the company's co-owners Phil and Liz Maddocks.
The family business grows its own wholehead lettuce and baby leaf on a 2,500-acre farm in Shropshire during the British season, and has long-term relationships with producers in southern Spain, Italy and Portugal for winter supply. At the end of last year, PDM broke into the FPJ Big 50 Companies for the first time on the back of an impressive 12.8 per cent rise in turnover in 12 months to 31 March 2019. But this rise was merely the continuation of a prolonged growth spurt for the family business, which has seen its turnover shoot up from £18.5 million in 2009 to £73.9m in 2019.
Liz Maddocks, who is the finance director and Phil's wife, puts PDM's rapid and consistent growth down to three things: innovation, like-for-like sales growth and expansion into ready-to-eat prepared salads. Indeed, there have been some exciting developments for PDM in these areas in recent years.
Back in 2015 the company launched an on-trend range of coldpress salad juices called B.Fresh, tapping into the trends for juicing, Nutribullets, smoothies and green juice. The range – which includes ten flavours that have changed a bit since it was first launched – was the result of years of behind-the-scenes NPD, allowing the company to make the most of its lower-spec produce and diversify into a growing market.
Then, in 2017, the Shropshire salad grower invested in a state-of-the-art 50,000 sq ft salad cold store and packhouse, with the support of a £14 million loan from Lloyds Bank Commercial Banking. Since the newly installed packing machinery can pack multiple leaf types, the facility has allowed the firm to continue to diversify its salad range. This includes wholehead iceberg, romaine and little gem, as well as baby leaf products such as rocket, spinach, red chard, baby lettuce and the ominously named Bull's Blood.
The new packing site is just one of several recent investments for the company, which has pumped £25m into production, harvesting, manufacturing capacity and automation at its base near Newport in the past three years. Notably, the installation of a high-care facility, and associated field and factory technology, has helped the company meet rising demand for ready-to-eat washed salads. "Adding value to what we grow is key to our growth plans," explains Phil Maddocks.
The hope is that this diversification and expansion into value-added products will allow PDM to attract new customers, however generally the supplier's customer base has remained consistent over the years. The company says it supplies "most of the market", with the exception of Tesco, Waitrose and M&S. Julia Wood, who is managing director of PDM's manufacturing and commercial business, explains that the supplier entered the market at a time when these retailers' supply chains were already well established.
Managing director of the farms business Dermot Tobin says the company's ongoing aim is to "deliver a sustainable model that enables us to continue to invest in our business", but the road ahead won't necessarily be easy to navigate, and Wood is candid about the challenges the fresh produce sector faces.
"Firstly, the marketplace is under continued deflationary cost pressure as discounters continue to gain share and the grocery channel continue to defend their positions. Secondly, labour costs have seen the largest rises in many years. And finally, there's Brexit and all that comes with that." Adding to this list, she stresses that food waste and single-use plastic are "big challenges" for the whole market, while weather volatility is an increasing challenge for growers in the UK and Europe, with salad supplies fluctuating considerably in recent seasons.
Not an easy time to be a fresh produce grower then, but as Wood points out, the trend for plant-based eating makes salad suppliers "well placed to innovate". If the last decade's anything to go by, you certainly wouldn't bet against PDM Produce being up to the test.