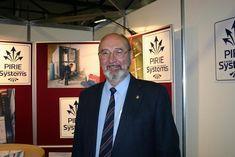 FJ Pirie and Co has designed and manufactured crop storage systems for more than 30 years and under the leadership of Frank Pirie, the company has devised a rapid cooling system, which could come to play an important role in the grape industry.
In 2000 Frank Pirie was invited by the UK ministry of agriculture to present lectures at various Egyptian universities on post-harvest technology, including the University of Alexandria.
Pirie travelled around the country and visited many farmers. It soon became apparent that there was a need for transportable units for the rapid pre-cooling of fruit. The farmers were looking for the field heat of some crops to be reduced from temperatures as high as 30°C at the time of harvesting to 0°C in a couple of hours.
Pirie explains: "We felt this would be achievable, so we designed and manufactured a system. We invited some people over from Egypt who were suitably impressed with our design and results of tests. Soon after we had a visit from the head of the post-harvest technology facility at Alexandria University, who was equally impressed."
To accommodate eight standard pallets and ensure that no compromise was allowed in providing positive air distribution of the cooling air, the overall width of the complete unit, although satisfying UK traffic regulations, presented some problems for the Egyptian market.
Costs of shipping units also looked like posing problems so Pirie began to look at working with manufacturers of insulated trailer boxes in Egypt. Pirie says: "We opened talks with Reftruck in 2001, however, around the time of the events of September 11, there was a cooling-off in interest. Interest has now been actively renewed. We will be manufacturing here in the UK the high capacity refrigeration modules, at least four of which can be shipped in a high cube container. These modules, on arrival in Egypt, will be connected to the insulated box section manufactured locally by Reftruck and fixed to a semi-trailer for easy transportation around the country.
"Our research indicates that this equipment offers a cost-effective solution to minimising the loss of valuable perishable crops and could play a major role in the rapid pre-cooling of table grapes provided the method of packaging allows for good air distribution around the crop."
Pirie is confident the product has a big future. He says: "I believe that, in many instances, the efficiency of the RapiCool could match that of a vacuum cooler at considerably less capital cost and bring opportunities to many markets including grapes."
INTERNATIONAL GRAPE EDUCATES HISTORY
International Grape, a jv company between Redbridge Worldfresh and Chingford Fruits, recently held its first supplier conference.
Delegates at the two-day event included 40 key suppliers of International Grape, a jv company set up to supply red and white table grapes to a leading high street multiple. These overseas suppliers represented eight countries between them - Brazil, Chile, Egypt, Greece, Italy, Peru, Spain and South Africa.
The conference gave their first suppliers an opportunity to come together as one united company. It also provided them with the opportunity to exchange ideas on grape production, learn the latest technical developments and innovations; and update themselves on legislation.
During a full day of presentations, profiles were also given on South African and Chilean grape production; customer demands and specifications; and data on the overall UK grape market.
The event was not all work however. Delegates enjoyed dinner at Simpsons in the Strand on the first evening; the following day, after a comprehensive seminar, a trip on the London Eye was organised. In the evening a gala dinner - with string quartet, caricaturist and table magician, provided a pleasant end to the event. "This fun element was an essential ingredient in galvanising the team towards building strong contacts," according to Richard Parke-Davies, managing director of Redbridge Worldfresh.
The conference also saw the introduction of the International Grape supplier award, for the supplier packing the best grapes for International Grape in each year. All packhouse managers from northern and southern hemisphere are eligible to enter. The significant prize money represents an investment in quality supply by International Grape, and a considerable reward to supporting local employees in the source country.
Phil Wood, commercial director of Chingford Fruits, adds: "This event was a great success and the first time ever an event of this sort has taken place."