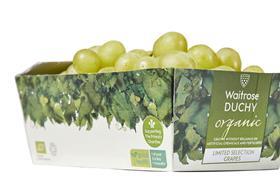 The disappointing start to summer has impacted sales at Waitrose.
The supermarket's personnel director Jo Walmsley reported that sales excluding fuel were down 2.2 per cent in the week ending 22 June, compared to a year ago when the weather was better.
That led to an increase in purchases of hot prepared ready meals, while outdoor plant sales also rose.
In other news Waitrose announced this week that it would be replacing plastic containers with fully home compostable punnets made of wood pulp for its Duchy Organic strawberries and raspberries.
That follows the introduction of a home compostable bag for its Waitrose Duchy Organic bananas, as well as what is described as a market first for its Waitrose Duchy Organic grapes, where it has replaced plastic tray punnets with cardboard.