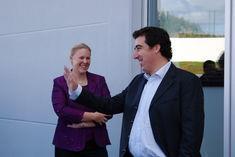 Portuguese exporter Emergosol has opened its first vegetable packhouse in Alto de Esteveira, northern Portugal, and hopes to make it one of the first BRC accredited vegetable packing facilities in the Mediterranean country.
The firm has more than doubled its exports of butternut squash to the UK market year on year, to over 2,000 tonnes, and hopes to expand to cater for increasing demand from UK consumers.
Established seven years ago by Anne Langan (pictured right), formerly of JP Fruit and DPS, her daughter Emma Roger and Roger's husband Hugo Franco (left), Emergosol also exports top fruit, stonefruit, brassicas, beans and chestnuts.
Franco told FPJ: "Some 70 per cent of our customers will be served from this packhouse, which is designed to BRC and will hopefully achieve the standard in five to six months' time."