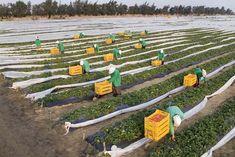 Egypt's ministry of agriculture last week announced that it has drafted legislation on three key agricultural topics, aimed at upgrading the roles of the Principal Bank for Development and Agricultural Credit (PBDAC) and agricultural co-operatives, as well as boosting the fishing industry.
Most Egyptian economists agree that the path towards comprehensive economic reform is through agricultural development, since the budget, balance of payment and trade deficits are largely due to soaring bills for food imports.
But according to analysis in leading Egyptian newspaper Al-Ahram: "By the same token, they [the economists] emphasise that the existence of strong agricultural credit and co-operative systems lie at the heart of any real development in this sector." Al-Ahram is closely associated with Egypt's ministry of information, and its opinions are well regarded and respected in the Arab world, where it is widely circulated.
In order to achieve these objectives, the Egyptian government has decided to change PBDAC from a state-controlled agricultural bank into a joint stock company, "allowing citizens, especially those involved in agricultural activities, to buy shares in the bank". PBDAC will assume a new name: the Egyptian Agricultural Bank (EAB). While its capital currently stands at LE10 billion (£894 million), the change in name and activities is expected to boost capital and generate more financial resources from its new roles.
But according to the newspaper, the plans, proposed by Egypt's minister of agriculture Amin Abaza, were received with dismay in agricultural circles. Agricultural economists fear that overhauling PBDAC will be a prelude to fully privatising the bank at the expense of farmers and agricultural producers. "Abaza strongly refuted these claims, noting that restructuring the role of PBDAC is a necessity to help it compete in a market economy," reports Al-Ahram.
In the early 1990s, commercial banks raced to raise their interest loans, including those borrowed by PBDAC, to 16 per cent. In response, PBDAC was forced to increase interest on its loans at a disadvantage to farmers. "This set a record high of 16 per cent interest for unsubsidised crop production; 17 per cent for horticultural production; 18 per cent for vegetable production; and 13-19 per cent for other activities, in addition to a one per cent administrative fee," the analysis says. It turned out that PBDAC became bogged down with bad loans, "saddled with no less than LE22 billion". Hamid Abdel-Azim, the former dean of the Sadat Academy for Administrative Sciences, maintains that PBDAC should remain a purely agricultural bank, aiming to boost agricultural production through the offering of subsidised credit.
The second revised law drafted by the Egyptian ministry aims to upgrade the roles of co-operatives. According to a report prepared by the ruling National Democratic Party (NDP), the system of agricultural co-operatives was introduced on a large scale in Egypt in the mid-1950s as the main method of boosting agricultural production, and phasing out the feudal system. "With the introduction of the open-door liberalisation policies in the 1970s and 1990s, agricultural co-operatives began to lose most of their shine," the report asserts.
Saad Nassar, consultant to the minister of agriculture, explains that the proposed law will secure independence for co-operatives and help them expand their activities. "The legislation seeks to make the co-operatives independent entities, with new powers to establish companies in all kinds of agricultural fields such as marketing, processing and exporting farm crops," he says.
The newspaper analysis adds that Ahmed Mansi, the NDP's secretary for farmers' affairs, said the new law will lift all current obstacles imposed by the ministry of agriculture on agricultural co-operatives, "enabling them from now on to forge partnerships with private and public sector companies in agricultural development activities".
While the two draft laws aim to lift restrictions on banking and co-operative activities, the third law protects the fishing industry. The proposed law regulating the performance of the Fish Development Authority (FDA) forbids any government agencies or private sector enterprises from drying up lakes without the prior permission from the FDA. "In order to dry up a lake, a technical committee needs to decide whether the process is economically viable or not," reveals Nassar.
In recent years, some agencies in both the public and private sectors have been found guilty of drying up lakes in favour of establishing investment projects. Agricultural economists were alarmed, warning that "the crime of drying up lakes could lead to undermining Egypt's vast fish resources", the analysis concludes.