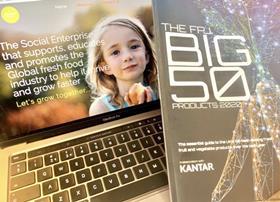 FPJ and Beanstalk.Global will be coming together for a special webinar to discuss the big trends in fresh produce sales.
Following the recent publication of the FPJ Big 50 Products 2020, FPJ journalists Fred Searle, Ed Leahy and Michael Barker will join Beanstalk.Global host Max MacGillivray and Kantar's Joe Show Roberts to talk about the risers, fallers and big trends in this year's ranking.
The FPJ Big 50 Products ranks the best-selling fruit and vegetable items in UK retail, identifying key trends and drivers, consumer patterns, retail strategies and more. The publication is produced in association with Kantar, which provides all the sales figures for the year.
The webinar takes place on Tuesday 14 July at 2pm, and you can register for free by clicking here.
FPJ contributing editor Michael Barker said: 'FPJ Big 50 Products has become the annual reference point for fruit and vegetable sales trends in the UK. Covid-19 has had a profound impact on sales over the past three months, following a year in which the category was already reporting encouraging growth figures.
'It'll be fascinating to dive into the macro trends affecting the market, as well as identifying some of the specific products that are starring on shelves. I'd urge anyone with an interest in what's happening at UK retail to join and get involved in the debate.'