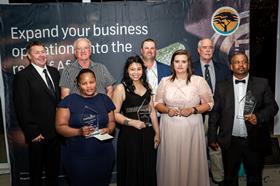 An awards ceremony has been held to mark 100 years since the first raisin crop was produced in the Orange River region of the Northern Cape.
The ceremony, organised by Raisins South Africa, saw farmers presented with various awards, including lifetime achievement, industry innovator, young grower, female grower, and emerging farmer of 2019.
The event was seen as an opportunity to celebrate some of the growers who have committed themselves to studying, developing and serving the South African dried fruit industry.
A book is also being written as part of the celebration, which will include the industry's history and grower stories. This is due to be released in 2020 and will be sold domestically and internationally.
Production tonnage has more than doubled in the past 20 years, with 29,000 tonnes being produced in 1996 compared to 73,000 this year, and continued growth is forecast for the foreseeable future.
Ferdie Botha, chief executive of Raisins South Africa, said: "It is anticipated that the drying-on-vine method will expand significantly over the next 10 years.
"Over the past decade, various climate-related incidents have forced industry to rethink how we go about our business going forward," continued Botha. "It's our responsibility to be innovative in our approach to ultimately mitigate climate-related risks. This includes, amongst others, the careful selection of earlier/later cultivars to better manage climate-related risks such as frost."
The Department of Agriculture and Raisins South Africa implemented an 'SA Gap' standard four years ago to advance product traceability. The certification requires all dried fruit farms to be assessed on their drying facilities and processes. The due date for all producer assessments to have been carried out is March 2020, and any producer that has not been approved will be unable to export.
Botha said: "The reason for this is to make sure that a premium quality and food-safe product, which South Africa is known for, will be produced and delivered to the world markets for many more years to come."