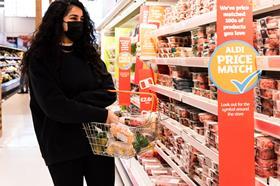 Sainsbury's has launched a new offensive in the supermarket price war by announcing it will match Aldi on hundreds of popular and staple items.
The retailer said customers will find around 250 products price matched to the equivalent line at Aldi, with the commitment covering both own-label and branded products and focusing on a range of lines from fruit and vegetables to meat, chicken and dairy.
The initiative includes savings such as a five pack of Fairtrade bananas, lowered from 80p to 69p; a six-pack of kiwi fruit down 18p at 67p; celery 7p off at 43p; 220g of Imperfectly Tasty Green Beans down 6p at 69p; 1kg of Imperfectly Tasty Carrots 5p off at 40p; 1kg of Imperfectly Tasty Baby Potatoes down 30p at 65p; and 1kg Greengrocer Berry Mix 11p lower at £2.39.
The price match move is described as the first new initiative of chief executive Simon Roberts' plan, announced in November, to put food back at the heart of the business and shows Sainsbury's commitment to invest where it matters most to customers.
Roberts explained: "We are making great progress delivering our Food First plan and I'm determined that in these tough times, we do even more to help our customers save money. Our new commitment to match Aldi prices on hundreds of our most popular products will mean our customers can be confident that they are getting the quality they expect from Sainsbury's at great prices."
Roberts also pointed out that the campaign supports Sainsbury's overall value offer and will sit alongside its Price Lock campaign. Currently around 2,500 everyday products are on Price Lock for at least eight weeks, which the retailer said helps bring customers consistent value.