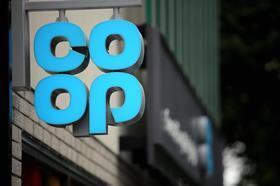 The Co-op has reported a substantial increase in sales and profits in the past six months despite the cost impact of Covid-19.
The convenience specialist saw total revenue rise 7.6 per cent to £5.8 billion in the 26 weeks to 4 July, driven by what it described as "exceptional" performances in food and wholesale. Food sales rose 5.2 per cent to £3.9bn as customers shopped closer to home and ate out less often, while Nisa wholesale income rose 13.9 per cent to £801 million due to more local shopping and range improvements.
Group pre-tax profits rose 35 per cent to £27m, though the company had to spend £54m in additional recruitment and the purchase of PPE. Costs were mitigated by £33m of government support in the shape of business rates relief and furlough payments for a limited number of colleagues. It added that the company will not take the government furlough job retention bonus.
Co-op was keen to point out that it has distributed £15m of funds to charities and community causes as part of its Covid-19 response.
As part of its social responsibility programme, the group also announced four new initiatives that it said would make a difference to colleagues, members and communities. These included a range of improvements to staff pay and benefits; a range of new diversity and inclusion commitments; new routes to employment for the most needy; and plans to relaunch its membership programme in the autumn with significant increases in money going to local causes and charities.
For the coming months the company said: "In Food, the competition is set to intensify but we remain well positioned. We have already resumed our store-opening programme and have made a commitment to invest £130m in opening 50 stores, giving 15 stores significant extensions, and giving 100 further outlets major makeovers, creating 1,000 jobs before the end of the year."
Allan Leighton, independent non-executive chair of the Co-op, added: "Our nation is experiencing a year like no other and I think it's safe to say that things will never be quite the same again. The pandemic has led to a health and economic crisis, but it has also highlighted deep-seated unfairness and inequalities across the world and surfaced a growing public intolerance for injustice. How we 'build back better' to create a fairer and kinder world has become central to public debate. As the UK's biggest co-operatively owned business, we intend to be central to that conversation, showing how commerce and community wellbeing must develop in harmony for the good of us all.
"During the first half of 2020 we have shown that commerciality and co-operability can thrive and feed off one another, when both are given the same level of focus and importance. The Co-op is a different kind of business, but one whose enduring value can best be evidenced during times of need and hardship. In the difficult times ahead, we will ensure that our Co-op continues to make the world a fairer place to live in."