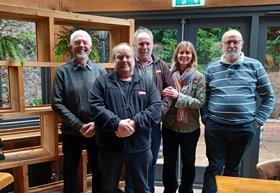 Hampshire-based fresh produce supplier Vitacress Salads has celebrated the work anniversaries of six of its UK farming team, whose combined service to the company totals 170 years.
Having joined the business on Valentine's Day in 1972, Andy Roberts, the firm's watercress planning and quality manager, has worked for Vitacress for 50 years with five of his colleagues also reaching between 20 and 30 years' service each.
"From day one, I felt part of the team", said Roberts. "I was told that the watercress business was going to undergo some radical changes in the coming years; a world of opportunity would be opening up. It was because of this vision that I stayed."
Over the years, Roberts experienced many changes, from mechanisation, with use of the first harvester, to being the first to add salad to a bag.
"We were taught to never forget that we were providing food for people to eat and if we wouldn't eat it, then don't cut it. But it was incredible, you simply didn't buy any salads in a bag in those days – it was revolutionary."
The six farmers, who work at Vitacress sites across Dorset, Hampshire and Wiltshire, were recognised for dedication to both the company and to growing quality produce, including watercress – which from its Latin name, directly translates to 'nose-twister' due to its peppery taste.
"We want to thank the team for their hard work and loyalty to Vitacress over the years," said Vitacress' growing and procurement director Kees Van-Poortvliet. "They are experts in their field and have used this knowledge to enable Vitacress to grow great-tasting, healthy produce in an environment which is enhancing nature."
At the celebration, which took place in the village of St Mary Bourne in Hampshire, farm managers were given personal gifts up to the value of £500 such as golf clubs, a laptop and a snowboard.