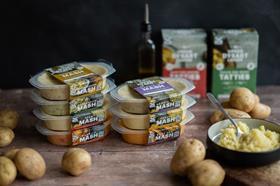 The farming family behind Stirfresh has launched a range of fresh 'no fuss' premium mash, cooked and packed on their farm on the east coast of Scotland.
With a focus on the taste and texture of home cooking, the Upper Dysart Larder mash is sealed for freshness for 30 days, without the need for preservatives.
Launching atScotland's Speciality Food Show (27-29 March)in Glasgow, the initial seven flavours - chorizo mash, wholegrain mustard mash, cheesy mash, haggis 'n' mash, colcannon mash, root veg mash and classic creamy farm mash - cook in under four minutes and whistle when the mash is evenly warmed and ready to eat.
Andrew and Anita Stirling have farmed potatoes at Upper Dysart Farm near Montrose for 30 years and in the early 2000s Stirfresh was set up, supplying washed and peeled fresh vegetables for schools and hospitals across Scotland. In recent years, they have built on this to create convenient 'easy veg' for retailers, from turnip mash, soup packs and par-cooked baked potatoes and are the largest supplier of washed potatoes to Aldi in Scotland.
With the rise in demand for healthy convenient meals, they have invested in new technology to create a series of nutrient-packed vegetable side dishes with long shelf life, offering customers guilt-free convenience.
"We have seen the rise in demand for fresh, healthy convenient food, but with a greater consciousness around health, customers don't want a long list of preservatives,' said James Sterling, son of Andrew and Anita. 'We wanted tocreate a high-quality, honest, home-style product that customers can fit into life, whether it's feeding the family or a nutritious meal-in-one to sustain you at work.
'With quick cooking, we are sealing in the goodness of our potatoes from the farm for customers to enjoyall the freshness, taste and nutrientswithout unnecessary additives. The long shelf life then allows retailers to hold stock for longer, save costs in supply and reduce food waste."
The mash is a flagship for all Upper Dysart Larder's vegetable sides and soup packs, which will also be available to buy direct from the farm's vending machines above Lunan Bay.