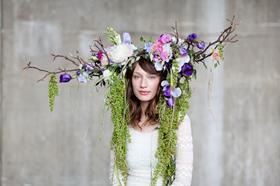 The nation may be glued to the World Cup, but there's another reason to be cheering on the UK this week, and that's thanks to the growing list of fashion-forward florists that are taking the industry by storm.
British Flowers Week, championed by New Covent Garden Flower Market, is a celebration of the designers and growers working hard to promote UK cut flowers.
Over the next five days florists such as Okishima & Simmonds, McQueens, Euphoric Flowers, Hybrid Flowers, and Simon Lycett will reveal specially commissioned designs using only British product.
A NCGM spokeswoman said despite UK sales of cut flowers being worth some £2.2 billion, it is estimated that just 10 per cent are grown in the UK.
"Many British growers are fighting international competition with rising costs and higher land values making it even harder to compete," she added.
"But now, British flowers and foliage are enjoying a long-awaited resurgence in popularity. Buyers are increasingly demanding more locally grown produce to celebrate the seasons and support British growers. Often scented, British flowers have a natural charm, beauty and just-picked freshness that make them the florist's favourite.
"New artisan growers have sprung up around the country, and campaigners such as Rachel de Thame, Sarah Raven, the Flowers from the Farm movement and New Covent Garden Flower Market, are leading the call to support British cut flower growers."
For more information on events go to www.newcoventgardenmarket.com.