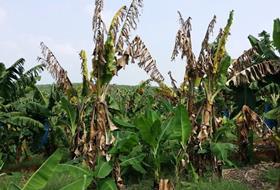 Tesco has become the latest retailer to back a GlobalGAP initiative to save bananas from the threat of TR4.
TR4, also known as Panama disease, is the biggest threat facing banana production in a generation, with some fearing the virus could threaten the long-term viability of the Cavendish variety. There is currently no known effective treatment to control the disease, meaning preventative controls are the only method of defence.
Worldwide assurance scheme GlobalGAP added a TR4 Biosecurity Add-on for Bananas in 2017, developed in co-operation with the World Banana Forum. The add-on provides farmers with a risk mitigation plan to prevent the introduction and/or further spreading of the TR4 pathogen to, within, and from their farms under GlobalGAP certification.
Tesco has already been requiring this add-on from its suppliers since the end of 2019 but has now strengthened its commitment to the cause, according to GlobalGAP. The supermarket giant has signed a "Call to Action to Save the Banana from the Threat of Tropical Race 4 through Good Biosecurity Practices".
Other signatories to the action plan include Spinneys, Rewe Group, Syngenta and Cobana.