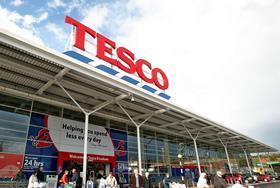 Tesco has reported a strong set of sales for the third-quarter and Christmas trading periods.
The grocery market leader posted a 2.3 per cent increase in UK and Ireland sales for the third quarter, versus the same period a year ago. Christmas sales were up 2.7 per cent, and the figure for the 19 weeks to 8 January 2022 was up 2.4 per cent.
Like-for-like sales against two years ago were even more positive, with Q3 sales up 8.2 per cent, Christmas up 9.2 per cent and the 19-week figure up 8.6 per cent.
Booker saw a particularly strong performance, with Christmas 2021 sales up 20.5 per cent against 2020 and 10.8 per cent against 2019. The Premier, Londis and Budgens brands were noted as performing especially well.
Tesco pointed out that in the UK it has recorded its highest share in four years, is growing share in both stores and online and has experienced 22 consecutive periods of switching gains.
Over 95 per cent of Tesco's promotional sales are now through its Clubcard Prices mechanic, with 8.5m customers accessing Clubcard via the app.
Chief executive Ken Murphy said: "We are delighted that we were able to help our customers have a great Christmas. Despite growing cost pressures and supply chain challenges in the industry, we continued to invest to protect availability, doubled down on our commitment to deliver great value and offered our strongest-ever festive range.
'This put us in a strong position to meet customers' needs as, once again, Covid-19 led to a greater focus on celebrating at home. As a result, we outperformed the market, growing market share and strengthening our value position.'