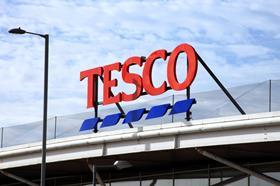 The UK's number one supermarket Tesco has reported pre-tax profits of £2.03bn for its 2021/22 financial year, up 219.7 per cent from £636m the prior-year period, amid rising sales during the pandemic.
Total revenues for the UK's biggest supermarket, which proved to be a pandemic winner by increasing on and off-line sales, rose by 6 per cent to £61.3bn as pre-tax profits trebled in the year to the end of 26 February 2022.
However, the retailer warned of 'significant uncertainties' affecting its 2022/23 performance as it faces a battle to "keep the cost of the weekly shop in check" amid soaring inflation driving up costs and squeezing household budgets.
Chief executive Ken Murphy said: 'Clearly, the external environment has become more challenging in recent months. Against a tough backdrop for our customers and with household budgets under pressure, we are laser-focused on keeping the cost of the weekly shop in check – working in close partnership with our suppliers, as well as doing everything we can to reduce our own costs.'
He added: 'We are running the business to generate sustainable value for all stakeholders and will continue to champion great value for customers at a time when they are facing increasing pressure on household budgets.
'Given the significant uncertainties in the external environment, we believe it is appropriate to provide profit guidance in the form of a wider than usual range. Our guidance for the 2022/23 financial year is therefore for retail adjusted operating profit of between £2.4bn and £2.6bn. Three main factors are likely to influence our actual performance: the extent of further normalisation in customer behaviour as we come out of the pandemic; the level of cost inflation that we experience and our ability to partially offset it through accelerating Save to Invest; the investment required to maintain the strength of our price position relative to the market.'