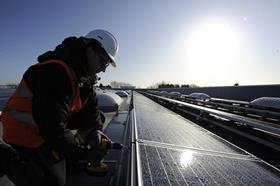 Recently, the UK governmentannounced a new £15 million fund aimed at boosting rural renewable energy projects.
From the scheme's name, the Rural Community Energy Fund, one could assume that the cash was only avail- able to parish councils and village charities.
However, if one looks at the eligibility of the applicants, Industrial Provident Societies (IPS) can also throw their hats into the funding ring allowing for agricultural co-opera- tives to claim help with upgrading to green technology.
The scheme will provide grants of up to £20,000 to conduct feasibility studies, while a £130,000 loan willthen be available to help with project costs, such as seeking planning permission and relevant environmental permits. The fund can be used to sup- port rural projects across the renew- able and low carbon energy spectrum, including wind, solar, biomass, heat pumps, anaerobic digestion, gas, combined heat and power, and hydro.
The government-sponsored Waste and Resources Action Programme (WRAP) will administer the fund.
It is just one of a number of pots of funding available from the UK government and the European Union that the British food producing industry can apply to for help in installing energy and cost-saving technology. While many firms will be aware of this,according to industry insiders there are equally as many who do not have the time or the resources to discover what is actually available.
FPJ would like to help readers to research such avenues but first of all, we want to know what information you already have at hand.
Therefore, we have put together a short survey that will help the magazine establish what help it can offer. It will take no more than five minutes and everyone that enters can leave an email address, should they wish to, and be put in a prize draw to win a free quarter-page colour advert.
Please follow this link to access the survey: www.surveymonkey.com/s/FPJgreentech