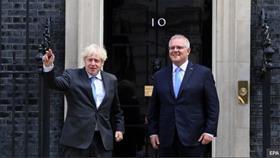 The UK and Australia today (17 December) finalised the free trade deal agreed in principle by UK and Australian premiers Boris Johnson and Scott Morrison in London last June.
The accord, dubbed "historic" by the UK government, is Britain's first 'from scratch' trade deal since leaving the EU, and, says Westminster, will benefit the UK by eliminating most tariffs on UK exports and unlock £10.4bn of additional trade.
The deal is also a gateway into the fast-growing Indo-Pacific region and will boost the UK's bid to join CPTPP, one of the largest free trade areas in the world, covering £8.4 trillion of GDP and 11 Pacific nations from Australia to Mexico, according to International Trade Secretary Anne-Marie Trevelyan.
However, UK agriculture bodies the NFU and Soil Association have separately lambasted the agreement, both stating it contains very little to benefit British farmers. Quite the opposite, they claim: it undercuts UK agriculture and heaps additional pressure on the country's already beleagured farmers.
Responding to the finalised agreement, NFU President Minette Batters this morning said. "We will analyse the detail in full but on the face of it, this is a one-sided deal," she said. "When it comes to agriculture, the Australians have achieved all they have asked for and British farmers are left wondering what has been secured for them.
"Ultimately, this deal simply serves to heap further pressure on farm businesses at a time when they are facing extraordinary inflationary pressure and sustained labour shortages, an issue the entire food supply chain agreed needed urgent action at a cross-sector summit earlier this week."
Soil Association head of food policy Rob Percival echoed this sentiment. "The Australians have played a blinder, but there's little in this deal that will benefit British farmers or citizens," he said. "It's void of common sense. As British farmers are stepping up to meet the environmental challenges of this century, our government signs a deal that undercuts them. And as the British public declares its concern for animal welfare and the climate, we commit to importing deforestation-risk beef from a country ranked last out of 193 countries in the latest UN-backed Sustainable Development report.
'The logic behind the deal is difficult to discern, but it seems to be 'free trade at all costs', served with a side of hormone-treated cattle. We must hope that the government's upcoming response to the National Food Strategy is more coherent and ambitious."