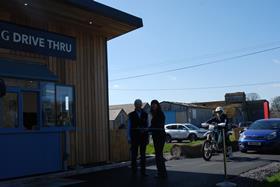 The UK's first-ever on-farm drive thru has opened in Wales, offering a novel new way for shoppers to get local produce.
The new drive thru, at Rhug Estate, was officially opened this week by the Welsh government minister for environment, energy and rural affairs, Lesley Griffiths.
Positioned at the entrance to the farm on the busy A5 road running to north Wales, the drive thru allows time-pressed customers to buy homemade Rhug food and drink, with all the packaging used compostable in line with the farm's sustainability policy.
Griffiths said: "I was pleased to officially open Rhug Estate's drive thru and see how they are making their high-quality and natural fresh produce available to weary travellers on-the-go. This is the first drive thru on a UK farm and shows the importance of businesses expanding their operations to make themselves competitive in the industry. I wish them the best of luck with their new venture and hope it follows in the footsteps of their award-winning farm shop."
Lord Newborough, owner of Rhug Estate, added: "In this busy world we live in I recognise that not everyone has the time to stop and enjoy a delicious meal in our bistro or quick burger at the takeaway, so the new drive thru complements the facilities that we already have and provides an easy, quick, solution for those who want to get back on their journey without delay."