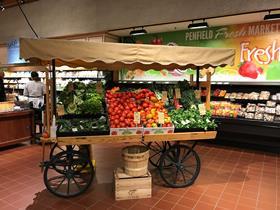 It's hot here in the US in summer, and fruit is currently taking centre stage. I have referenced previously additional space, with greater numbers of lines, and never is that more prominent than in the summer fruit ranging.
In the UK I had a love affair with pomelo, but despite my buying four a week when they were in season not enough members of the UK public shared my love and the pomelo has disappeared from UK shelves. Here, I can get ruby pomelos.
My family are currently loving pepino melons, which taste like a combination of a melon and a cucumber! No seeds are visible and they are roughly the size of a mango, but minus the stone. They are super easy to eat with a spoon. I hadn't seen them in the UK, so they appear to have had a short-lived outing!
There are more melons – we have Honey Kiss, Sugar Kiss and Summer Kiss varieties. The marketing team were obviously on a kissing roll. The melon called Honeydew here is different to the UK – it looks more like a snowball. They have the standard watermelons and cantaloupes. Piel de Sapo, which is my favourite, is rarely and not currently available. It is also called a Christmas melon, due to its storage abilities.
My closest supermarket has 22 SKUs for prepared melons (36 if you include melon mixed with other fruits). And there are more exciting (though limited distribution) lines like prepped dragonfruit and products for the supremely lazy: peeled tangerine anyone?
In general there are just more varieties available within the more common fruits, for example there are plenty of Honey mangoes as well as regular. Similarly, the donut peach or flat peach, while gaining in popularity in the UK, is much more mainstream here and donut nectarines are also currently on special this week. Likewise giant blueberries like those tried once by Tesco.
There are all the exotic fruits one would expect: cherimoya, guavas, prickly pears, star fruit, dragonfruit, lychees and plantains are all more common.
There is better execution of PoS here, with guides to picking the best perfectly ripe fruit, what the flesh looks like, how to eat and serve, how to store it etc. And this certainly gives greater confidence to the consumer to try. Significantly, it's the visual impact of abundance and excitement that the varieties give which is the real win.