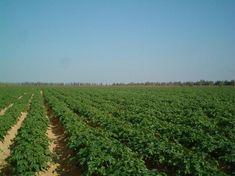 The poor quality of imported seed and growers' inexperience of the crop hampered early production efforts in Egypt. However, since the early 1960s, the north African country's potato production has expanded by more than five per cent a year.
According to the Food and Agricultural Organisation of the United Nations (FAO), between 1990 and 2006, annual output rose from 1.6 million tonnes to some 2.5mt.
As well as being a major producer, Egypt is one of the world's top potato exporters. In 2004, exports reached more than 380,000t and 18,000t of frozen potato products, with significant volumes landing in Europe.
However, while shipments to some markets, notably Germany, have risen, exports to the UK market have dropped worryingly in the last decade. In 2002, shipments were as much as 100,000t, according to Dr Ihab Tadros, chairman of the Egyptian Potato Consortium (EPC). However, discovery of brown rot has hampered the export deal and curtailed volumes.
Although Egypt has been sending around 20,000t of potatoes to the UK for the last few years, Tadros says Egyptian producers are determined to claim back their market share.
An increase in overall plantings of some seven to eight per cent this season should bolster their efforts. In addition, more plantings will take place on newly reclaimed virgin land. According to Tadros, producers have been planting in the Wadi-El Natroun area (located 62 miles from Cairo) for a few years with success, and all major growers will be investing further in this area.
EPC is also joining forces with Nahdet Misr this season to supply potatoes to the UK. "I'm very optimistic about this venture with Nahdet Misr," Tadros tells FPJ. "Nahdet Misr is the largest exporter of potatoes to the UK and EPC is the largest importer. More retailers and end users want to be as direct as possible, and you cannot get more direct than this.
"We'll be a grower, packer and exporter all under one roof. We will be offering 100 per cent traceability on our potatoes and will not be relying on any other sources."
The two companies have invested in a new state-of-the-art packhouse in the Monofin area. At full capacity, the packhouse can handle 300t of potatoes a day but, as the season has only just begun, Tadros says the packhouse is currently handling about 70-80t a day. The new packhouse has achieved GlobalGAP and Tesco's Nature's Choice accreditation.
The start of the 2007-08 season is roughly in line with 2006-07, with first shipments having left Egypt on December 25. The first load of Nicola potatoes arrived on January 12, Tadros tells FPJ.
Exports to the UK last season came in at around 20,000t, and Tadros is hoping to see an increase this season to 23,000t.
Tadros, who works in the UK but visits Egypt regularly during the potato season, says wholesalers account for the majority of EPC's business in the UK.
Greenvale AP normally imports Egyptian potatoes from January through to the end of March. "This is to ensure unbroken supply to UK consumers outside of our own harvesting time," explains Chris Hooton, import/export manager.
In recent years, growers have invested in their organic operations and, according to Hooton, the market is now being extended to June in order to dovetail with UK production.
Tadros, however, notes that although organic fruit and vegetables are receiving more attention in Egypt, it is unlikely that the organic potato deal will see any large gains in the foreseeable future.
According to Greenvale, overall growing conditions were good last year, although the weather was hot at planting time, thereby delaying some start dates. "Greenvale AP planted our crops early, and so far they are progressing very well," Hooton tells FPJ.
Greenvale's Egyptian produce is primarily for the retail market, although it also supplies smaller volumes to the wholesale sector.
Similar to other sources, Greenvale says Egyptian producers are working hard to make their operations as competitive as possible. "Growth in new areas has been seen in extra land used, new varieties used and investment in the growth of irrigation within the Western Desert area for organic crops," Hooton says.
Egypt faces a number of competitors during its season. Spain, Italy and other European producers are its early rivals, while Mallorca and Israel vie for market share as the season progresses. According to Hooton, Cyprus can also compete, but the area is not strong in the retail sector.
Some of the major challenges for the Egyptian potato sector include skin finish, logistics and brown rot, although Hooton acknowledges major improvements have been made over the last three years.
In terms of opportunities, Hooton says an unbroken supply to the UK market means year-round availability to consumers. "The UK has very high standards so we are always looking for consistency and continuity, he adds. "Long-term plans are to develop the business further. Greenvale AP is committed to long-term sustainable production and the production of potatoes to the highest UK accredited standards."
In order for Egyptian potato producers and marketers to raise their profile in the UK, Hooton says consistency of product and standards need to be maintained, as "opposed to the oversupply of lesser quality produce".
While Egypt is keeping a close eye on the UK this season, Scandinavia is one area that could also prove interesting. According to officials, there have been more enquiries from there this season compared to previous years.
Meanwhile, Sonac is also looking ahead to the new season. The firm produces a wide range of varieties, including Nicola, Spunta, Diamont, Lady and Rosetta. The producer-exporter is in the process of constructing its fourth packhouse in the Wadi-El Natroun area.
Sonac exports to a wide range of markets in the UK and Europe, Asia and the Middle East. Last May, it doubled its coldstorage capacity to 12,000t, becoming the biggest coldstore for processing potatoes in Egypt and the Middle East.
The last two years have been eventful for Sonac, with the company enjoying record export figures of 45,000t of potatoes in 2006. Furthermore, it gained BRC accreditation in 2007.
Sonac's farms are located in Salheya and Nobariya, and the firm is also reclaiming new lands in Wadi-El Natroun.
FoEME CALLS FOR WATER EFFICIENCY
The Egyptian agricultural sector consumes more than 80 per cent of fresh water, but only contributes 20 per cent to the country's GDP, according to recent reports. Officials say increasing water productivity can be achieved by changing land use, revising water management and using more water-efficient techniques.
According to one source, Arab countries need to export crops that are more water-efficient to produce, such as potatoes and other vegetables, fruit and wheat, while importing crops like rice and sugar, which need a lot of water.
Water shortage is already a real challenge in the Middle East, and a report published by Friends of the Earth Middle East (FoEME) says climate change will contribute to even greater water stress in the region.
"It will be essential for the most developed countries to provide developing countries with technical and financial assistance in adapting to climate change," says Munqeth Mehyar, director of FoEME's Amman office. "Under climate change, there will be no fresh water resources available for agriculture," he warns.
Climate change is expected to particularly affect water resources inJordan and Palestine, which are already among the most water-scarce countries in the world.
FoEME is calling on governments to assist rural communities to diversify their income sources. "Government policies that continue to heavily subsidise water for agriculture are unsustainable and are preventing us from preparing for the inevitable," says Mehyar.