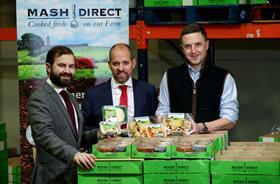 Prepared fresh produce business Mash Direct is being showcased on Virgin Media TV channels as part of a €1million support package for Irish SMEs.
Alongside another food supply business, Lovegreen.ie, Mash Direct will receive free on-air advertising, including production across the full schedule, covering Virgin Media Channels One, Two and Three.
The #backingbusiness initiative was kickstarted by Virgin Media in May, in order to help revive the economy from the drastic impact of the coronavirus pandemic, with profiles on their TV channels of different businesses each week.
Speaking on the ad about how Mash Direct has adapted since the virus outbreak, COO Jack Hamilton said: "What we've done in the last few months is diversify again to go back to what my great-grandfather did, which is delivering fresh vegetables via the Mash Direct shop, fresh from our fields, right to your door."
Speaking about the initiative, Aidan D'Arcy, director of business at Virgin Media said: "This campaign celebrates and promotes the spirit of Irish businesses and their resolve to fight back, recover and succeed in spite of this unprecedented crisis.
"We know many businesses are finding things tough right now, particularly local SMEs who are at the heart of their communities, so we want to help them as much as we can while they deal with their current challenges and create new ways to keep their businesses and their employees busy,'