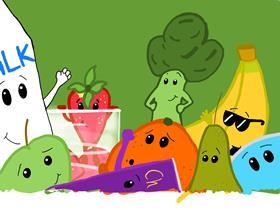 Waitrose's Nutrition and Health team has helped develop six children's books about healthy eating for a new online library.
The Social Book Club is a subscription-based service hosting around 200 original stories online which aim to educate children about issues facing them in the modern world, from health and wellbeing to family life. The stories are designed to support teachers and parents in delivering personal, social, health and economic (PHSE) curriculum topics.
The six-part series takes primary-aged readers on a journey through a supermarket to teach them about healthy food choices. They meet different characters along the way - including Sammy the Strawberry and Blake the Broccoli - who boast about the nutritious powers they offer. Waitrose's Nutrition and Health team provided advice for the books based on the UK government's Eatwell Guide recommendations.
The retailer is offering myWaitrose and myJohnLewis cardholders a 25 per cent discount off the regular monthly subscription cost of £7.99 to £5.99 with the code WAITROSE at the Social Book Club's checkout. The Club is launching to homes and schools this week.
Dr Emma Williams, nutrition manager at Waitrose, who helped to develop the six new books for the site, said: "It's important children understand where food comes from and the role it plays in helping them to grow into happy, healthy adults, so we are excited to support The Social Book Club. We hope the books will show children how different foods work together to provide key nutrients in a fun and exciting way."
Dean Horridge, founder and chief executive of The Social Book Club, added: "The Social Book Club is delighted to be partnering with Waitrose. These six books will engage children and introduce them to the benefits of a varied and healthy diet, through a cast of colourful characters! The Social Book Club's mission is to give children subject matter that supports them in these difficult times we know children are facing today."