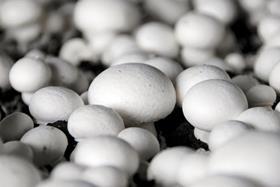 Evesham-based Walsh Mushrooms has bought Irish grower Golden Mushrooms in a deal that in a deal that increases its production capacity to over 7,000 tonnes a year.
Described as a "show of confidence" amid ongoing volatility in the Irish market, the acquisition means Walsh Mushrooms Group will now grow 7,280 tonnes of mushrooms a year, and employ 380 people across four sites in Ireland and the UK.
The acquired business will trade as Walsh Mushrooms Golden Ltd from its site in Golden, Tipperary, in central Ireland.
Walsh Mushrooms currently markets over 26,000t of mushrooms per annum, accounting for over 15 per cent of the total UK mushroom market, the company said.
Managing director of Walsh Mushrooms, Padraic O'Leary, said: "We believe that this acquisition will serve to further strengthen the Walsh Mushrooms Group, building on our recent significant investments in our production and packaging facilities in the UK.
"Golden Mushrooms has grown into a successful business over the last 18 years and we have long admired the production facilities and staff. Their strong commitment to sustainability, with the presence of a biomass facility on site, was key for us and strongly aligns with our group environmental policy."
Commenting on the current uncertainty in the Irish mushroom industry, O'Leary said the last seven months have been "incredibly difficult" but said he is confident that the sector will overcome the challenge created by Brexit. "The fact is that mushrooms are the second largest vegetable category in the UK, yet the market is not self-sufficient and needs to import 50 per cent of their mushroom requirement,' she said.
"A long-standing, strong relationship exists between the Irish grower and the UK market and we are confident that ultimately the UK will return a more sustainable price for Irish mushrooms reflecting the new, post Brexit, foreign exchange rates."
Walsh Mushrooms Group is the second largest mushroom supplier in the UK market place, with operations in Ireland and the UK in compost manufacture, mushroom growing, marketing and distribution.
Golden Mushrooms was founded by Michael and Marian Bergin on a site outside the village of Golden in Tipperary in 1998.
Founder of Golden Mushrooms, Michael Bergin said, "We are proud to have grown a successful business from scratch and are delighted to see it, and our loyal employees, continue to operate under the new ownership of Walsh Mushrooms Group. We have worked closely with Walsh Mushrooms Group for the last 15 years and greatly respect their continued support and confidence in the Irish mushroom industry.'