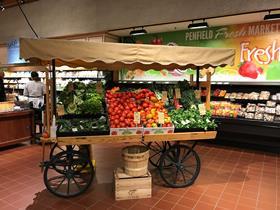 The concept of supporting British growers and product seasonality isn't lost on UK retailers. There has been fierce inter-retailer competition on exactly who has 'British' first (price has nothing to do with it obviously – it's all because their consumer demands British?!)
America is in some ways more akin to Europe on size, with each state so vast they are more like a country in economic terms. In England 'European' sadly isn't a strong marketing message, whereas here 'American' definitely is. Flags fly, and red, white and blue never goes out of fashion (on a side note for a country so proud, that takes every holiday opportunity to celebrate kicking out the British, they went crazy over the recent Royal Wedding and are mildly obsessed with Downton Abbey). As well as 'national', the 'local' or 'state' message thrives here, and we are lucky in New York to grow some great produce.
The retail marketplace in America is different because of this size. While retailer dominance may vary locally in the UK, the same small handful of supermarkets are found everywhere, and 'other' isn't dominant anywhere. Here, there are some consistent faces, such as Walmart, the odd Whole Foods and Aldi, but the dominant store in an area may be a local brand with 50+ stores, a strong regional history but minimal presence beyond the next state line.
Local is promoted well here as in-store merchandising is much more flexible and responsive. They use mixed display tables and fixture types like 'local/organic wagons' to display the best in 'Upstate New York Produce', and they really do the details on that well, with hand-written signs for example.
They move fixtures around so they can have a big display at the front of apples, or brassicas, or citrus. They permanently have signs up which are updated with 'What's in season right now' (Jumbo blueberries this week – very sweet).
Nationalism and the patriotism of being a proud American is instilled differently here. My three-year-old already has the pledge of allegiance to a T. American is a volume-driving promotional message in produce, but on balance it is more directed at beer and food colouring-laden iced cookies.
Ultimately in produce 'local' over 'national' is the stronger produce sales driver – just as in the UK 'British' over 'European' is the winning message.