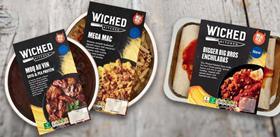 Thelaunch of a new plant-based meal deal has helped Veganuary sales rocket at Tesco, the supermarket has reported.
Tesco said the launch of its largest-ever vegan meal deal has helped demand for its Wicked Kitchen plant-based range more than double during January.
Wicked Kitchen was the first plant-based range to launch in partnership with a UK supermarket in 2018. Among the most popular plant-based foods bought at Tesco this month have been vegan pasta and vegetable soups – up by nearly 140 per cent on last January - and vegan cooked meat alternatives, which are up by nearly 40 per cent.
Tesco head of plant-based food innovation Derek Sarno said: "In the last year we have concentrated on making the best-quality plant-based food even more accessible for shoppers by lowering prices.
"The Wicked Kitchen Meal Deal, which is an amazing offer for folks that want to try plant-based for the first time, launched this Veganuary and is testament to that.
"The amount of choice these days is mouth-watering and almost every category within supermarkets now has plant-based options, making it easier than ever for those considering switching to embracing more meat-free days of the week.
"We have introduced more brilliant meat-free alternatives to classic favourites such as our Moq au Vin version of Coq au Vin, a vegan BLT sandwich, a Kickin' Cauli Katsu Curry and even our non-dairy Wicked Tiramisu."