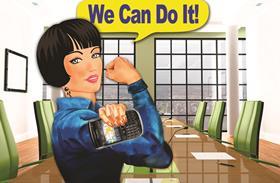 Apparently there is no glass ceiling for ambitious, talented and hard-working women in the fresh produce industry, but there is a tinted door hampering entry.
According to executives and recruitment experts in the business, there is plenty of opportunity for women to rise through the ranks, but it's a matter of attracting them in the first place.
"I think first and foremost the fresh produce industry has a problem with recruiting full stop, whether it is men or women. We're a hidden industry and we have to get out there and start selling what is a fantastic and challenging industry to work in," says Susan Barratt, Natures Way Foods' chief executive.
"Personally, I have never had any issues with being a woman in this industry. In fact, I think it is a very female-friendly one; because it's a364 days a year business there has tobe flexibility.
"There are opportunities to work around the needs of childcare and also because there are so many variables that you have to work with – for example supply chains, weather problems, international trade – there's a lot of multi-tasking, a skill that women are particularly known for.
"You also need a lot of resilience and a good work ethic, this is a challenging industry and you work hard. But the rewards are there; it's exciting and fast-paced and changes on a daily basis. I am never bored and I love that."
It would appear that once again, the fresh produce industry's low profile in the careers sector is preventing a pipeline of female talent from taking hold and many say the answer is to recruit from other industries. Max MacGillivray of Redfox Executive Selection says as a whole, the UK sector is "relatively well served by senior-level women.
"It may seem to be a male dominated sector, but I'm always very pleasantly surprised that when we speak to clients, it is the vast majority who have no issue about women in the workplace at any level and they would have no issue with women holding any type of role in their businesses from junior through to board level," he adds.
"The issue in my opinion is the future pipeline of possible female candidates directly from the fresh sector who could take on more senior roles. With the headhunting technology that we deploy, we can track the various people movements in the sectors.
"This includes all aspects from university origins, to locations to disciplines and ongoing career paths. If you interrogate that system to highlight the potential female candidates for future senor roles, there are unfortunately very few of them currently in the fresh sector."
MacGillivray says there are a number of reasons, from the genuine lack of females entering the sector from the standard "feeder" universities to the general decline of individuals as a whole entering the sector as well. "So the answer to more women in the boardroom is for them to be sourced from other industry sectors,as some produce companies have already found to their long-term advantage due to the skill set they can bring from their 'learnings' from those differing sectors."
This has certainly been the case with Covent Garden Market Authority's chief executive Jan Lloyd, who worked in the FMCG end of the food industry before her current appointment. From her experience in other sectors, Lloyd says the fresh food industry needs to focus on making itself attractive to both female and male candidates.
"[We need to] highlight the diversity of the roles, the importance of horticulture in solving the increasingly global challenge of feeding people sustainably, which would appeal to an increasing sense of social responsibility," she adds. However, Lloyd adds that the issue of women reaching the boardroom is complicated by their choice to step off the career ladder to raise children, although this is not something she has experienced in her own career.
Branston's finance director Julie McTurk agrees that this can have an impact, not just in the fresh produce industry but business-wide.
"It's still a simple fact that more women than men take career breaks or choose to work reduced hours for family reasons and therefore it may take women longer to attain those senior levels. It's clear that the government is trying to address this by making changes to maternity and paternity leave, so that may help in the future," she says.
"I believe that the majority of companies do now recognise that there has to be a work/life balance to enable them to capitalise on the skills and benefits that women can bring to senior levels and this definitely needs to continue."
As with many of the women working in the industry that FPJ spoke to, McTurk says the image of farming and farming-related businesses as male-dominated arenas is starting to change.
Her concerns are that the industry is still seen as a place of family and cottage-run firms. "I see more female traders and agronomists coming through at Branston than I did when I started in this industry," she explains. "As more women enter this industry this will, without doubt, lead to more women at board level. I believe fresh produce needs to have a positive, professional image to encourage women to see it as a viable career option.
"[But] there are still many preconceptions about farming and fresh produce companies being small, family-run, low-tech entities, and I am often surprised by the reaction of others when I explain both the size and complexity of the business that I work in.
"I believe there is still some way to overcome these preconceptions but during my 20 years in the fresh produce industry I can see that changes have happened and will continue to do so."