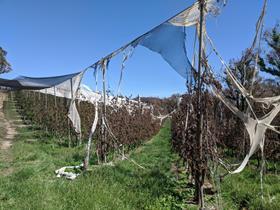 Australia's peak apple and pear industry body, APAL, has welcomed the New South Wales government's announcement of funding to support growers and their communities rebuild following the devastating summer fires.
The NSW government's bushfire industry recovery package will provide supply chain support grants of up to $120,000 per hectare for impacted apple growers to meet the costs of clean up and replacing trees, trellises and netting.
The package also offers bushfire sector development grants of up to A$10m each to support initiatives that include building industry productivity, sustainability and growth.
APAL chief executive, Phil Turnbull, said the NSW government's announcement reflected many of the ideas and recommendations put forward by APAL in its 'Build Back Better: Apple Industry Bushfire Recovery Programme'.
"With assistance from our local growers we were able to present a five-year recovery plan to the federal and state governments," said Turnbull.
The summer's bushfires caused more than A$70m in damage for the apple industry in Batlow and Bilpin in NSW and the Adelaide Hills in South Australia.
The new package released by the NSW government proposes a road map to rebuild a stronger and more resilient apple industry moving forward.
"We know it's a going to be a long and difficult road to recovery, and this package delivers welcome assistance for these communities as they start this journey," said Turnbull.
"Since the fires we have had access to the highest levels of government including meetings with the Prime Minister, deputy Prime Minister, deputy premier of NSW and minister for agriculture. These discussions have been invaluable to setting out the needs and priorities for growers and the industry in the regions devastated by the summer fires," he added.
With NSW government funding secured, APAL is awaiting release of the guidelines for the federal government's recently announced bushfire funding package.
"We encourage the federal government to contribute so our industry can complete the five-year recovery plan," noted Turnbull.