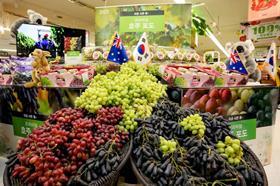 The Australian government has provided the Australian Table Grape Association (ATGA) with funding to boost export market access for a range of horticulture crops.
The ATGA was awarded A$600,000 (US$444,000) for two programmes through the Package Assisting Small Exporters programme, which is designed to provide long term benefits to producers and existing exporters, while also opening up new market access opportunities.
David Littleproud, Australia's agriculture minister, said the country's table grape industry had led the way for horticultural exports and it is now passing on that experience to promote the development of other industries.
"Two grants have been provided to the Australian Table Grape Association, one to develop mobile applications to assist with managing chemical residues for each of the avocado, apple and pear, vegetables, berries, mango, melon and summerfruit industries," said Littleproud.
"The other grant will look at improving the capabilities of the industry sector's current export accreditation system which streamlines the export registration process."
Littleproud, said improving the accreditation system will minimise disruptions to markets, encourage greater participation in export markets and increase in Australian horticultural exports.
"Additional reporting metrics will also provide industry bodies with the confidence to forecast export numbers and negotiate access to new markets," Littleproud added.
"Projects such as these will not only save producers time and money but help ensure Australia continues to build on its reputation as a reliable supplier of clean, safe, quality produce."