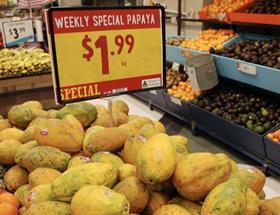 The harvest outlook appears healthy for Australian papaya growers. Despite a later start to the autumn peak, Gerard Kath, president of peak industry body Papaya Australia, said consumers can expect plenty of fresh, tasty papaya in stores from this month onwards.
"Although we had a dry start, the relatively below average wet season has helped the fruit to develop well and we're thrilled with quality hitting supermarket shelves - it's a nice size and deliciously sweet," said Kath, a Mareeba-based papaya grower himself.
"We're excited for our customers to enjoy the fresh papaya coming onto the market now – they'll be able to find an abundance in their local supermarkets as well as any independent retailers or green grocers."
Spring and autumn are the peak seasons for Australian papaya and papaw production, with fruit available year-round. Red papaya and yellow papaw are predominantly grown in the warmer tropical climates of Far North Queensland such as Tully, Innisfail and Mareeba, though plantings extend as far as the Northern Territory and Western Australia.
A consumer-facing marketing programme, including online recipe suggestions and information on handling the fruit, is being coordinated under the Australian Papaya brand. The brand is managed by Hort Innovation on behalf of the nation's papaya growers.