Retailer expands range to meet increasing demand for organic fruits and vegetables
Coles has transformed its organic fresh produce offering, near doubling the volume and variety of organic fruit and vegetables in stores to meet increasing consumer demand.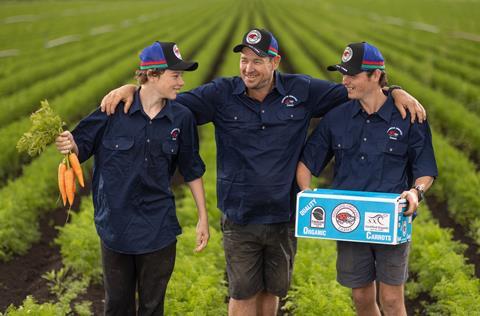 The 2021 Organic Market Report found Australians are increasingly buying organic, with 56 per cent of shoppers reporting they have purchased organic produce in the last year for the quality, the use of fewer pesticides and chemicals, and sustainable farming practices.
Over the past 12 months, Coles has experienced a 44 per cent increase in demand for organic produce in stores, including almost tripled for bananas (up 187 per cent), more than doubled for avocados (up 113 per cent) and broccoli (up 30 per cent).
To meet the growing demand, more varieties of fresh organics will be available through Coles' partnership with more than ten new Australian growers from across the country.
Some of the new Coles organic produce suppliers include apple grower Apple Packhouse from Western Australia; vegetable grower Eldridge Fresh Organics in South Australia; Northern Territory mango grower Cheeky Farms; carrot, beetroot and celery grower Huggins and strawberry grower Ashbern Farms from Queensland; avocado packer Avorama from New South Wales; cherry grower Cantril Organics from Victoria; and vegetable grower Bio Farms in Tasmania.
Coles' expanded range of organic produce, which is all third-party certified by ACO Certification, is also helping Coles meet its Together to Zero Waste ambitions, with 35 tonnes of plastic being removed from pre-packaging.
Coles general manager for produce Craig Taylor said the popularity of the organic produce range has resulted in Coles sourcing produce from more than 35 farming families across Australia.
"Due to the overwhelming demand for fresh organic produce, we have increased our network of Aussie growers and invested in new ranges, such as fresh organic snacking carrots, to offer customers convenient options like we already do in our conventional fresh range," Taylor said.
"Customers will now see more of their favourite fruit and vegetables in organic, like avocados, carrots and beetroots in abundance and at great value, thanks to our existing suppliers and new partners from across the country.
"We're proud to work with fantastic growers from coast to coast, from apple growers in Western Australia to carrot farmers in Victoria, to provide our customers who shop organically more choice in the fresh department all year round."
The Huggins Organic Farms, run by Troy Huggins, his wife Lorena and their six children, is a second-generation farm that has been a pioneering facility for Australian Certified Organics.
Rodney Tripp, operations manager with Agricultural Network who represents the Huggins Family farm, said support from Coles gave the Huggins family the confidence to expand and the support to do what they do best, particularly after two devastating floods this year.
"Troy and his family were some of the original producers of organic produce — their farms produce organic vegetables of exceptional quality which they are proud to be offering to Coles," Tripp said.
"As a local business, we are able to ensure the whole process, from harvesting to packing, is as environmentally conscious as possible. We have transitioned away from wrapping our fruit and vegetables in plastic, minimising packaging waste while maintaining the quality of the product.
"This year has been particularly hard with two major flood events affecting the farm, but Coles and the community came together to provide support, and the first supply of organic vegetables to Coles' customers, post-flood, started in late September."
The Arahura Farm is one of Australia's largest organic producers, providing Coles with year-round carrots, celery and beetroot from its Swan Hill farm.
Arahura Farm general manager Sean Croft said when buying organic, customers can be 100 per cent confident their produce has been grown naturally and without the use of chemicals.
"At Arahura Farm, it is not just about talking the talk when it comes to sustainable growing practices. It's also about walking the walk, which is why we have developed a new pack line to double efficiencies when it comes to packing carrots, while reducing 1.6 tonnes in soft plastic packaging," Sean said.
"Coles has been extremely supportive of our business, giving us the confidence to continually advance our sustainable farming methods and make us proud of not only what we do, but the quality we deliver to customers."
Earlier this year, Coles announced it will be providing grants to six businesses that are implementing plans to improve sustainability, grow Australia's organic fresh produce industry and increase sustainable meat production.
Third-generation business Mt Alma Organics, located in the Burdekin Shire in North Queensland, will receive A$300,000 Coles Nurture Fund grant to purchase and install specialised equipment for washing, grading and sorting produce.
Not only will this enable innovative practice, but it will also significantly expand the company's production of certified organic fruit and vegetables and increasing capacity for full-time and seasonal workers.
Victorian family business Peninsula Fresh Organics will use a A$300,000 grant to help implement its plans to transform its irrigation infrastructure at its farms at Baxter in Victoria and Barham in New South Wales, saving 60m litres of water per year and preventing run off of nutrients into local waterways, and to build a cool room to improve product shelf-life. Coles Nurture Fund has been providing additional support to growers since 2015, delivering A$30 million worth of grants across Australia.
As part of Coles' commitment to expanding organics across stores, Coles has re-launched its Coles Certified Organics brand with a new-look and consistent design across organic food packaging.
There are more than 100 products across the Coles Certified Organic range in fresh produce, dairy, freezer, meat and grocery aisles.