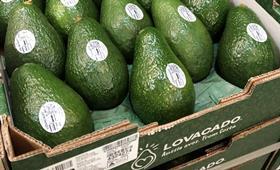 Australian fresh produce heavyweight Costa Group has underlined a record performance from its international segment in its first half (H1) finical results (six months to 27 June 2021).
Costa posted an EBITDA-S of A$124.4m over the half, up 4.3 per cent on H1 2020, while its NPAT-S (net profit after tax) came in at A$44.4m, up 3 per cent on the previous corresponding period.
The listed company attributed A$2.5m of costs directly to the Covid-19 pandemic over H1 2021.
Commenting on the performance, Costa chief executive Sean Hallahan highlighted the group's international division, which includes berry operations in China and North Africa.
"Our international segment through our operations in China and Morocco continues to make an ever-increasing contribution to our overall performance and has delivered record results," Hallahan said.
"This has not only occurred because of increased berry plantings but is also an endorsement of our world leading blueberry genetics, which continue to be well received by consumers across Asia and Europe and are attracting a price premium."
Mixed domestic performance
Back in Australia, Costa reported a "mixed domestic performance" over H1 2021, with "generally favourable pricing" across the four berry varieties it grows, packs and markets.
It was a less favourable scenario for the group's avocado category, with high production volumes across the industry contributing to significantly lower pricing and category performance, compared to H1 2020. Covid-19 lockdowns also contributed to foodservice sector contraction.
Meanwhile, a hailstorm that hit the Sunraysia growing region on New Year's Day (2021) reduced table grape and citrus yields at Costa's Colignan property.
"Domestic produce performance was mixed for the half, with avocado performance impacted by high volumes and resultant pricing below forecasts," Hallahan said.
"Table grape and first half citrus yields from the Sunraysia (Victoria) region were unfortunately impacted by a New Year's Day hailstorm.
'While there were relatively positive demand and pricing conditions for mushrooms our ability to fully benefit was not able to be realised due to lower production volumes."
Citrus season rolls on
Fruit fly restrictions in the Riverland (South Australia) have been another obstacle for Costa's citrus team.
"Restrictions will remain in place for the remainder of the season, which involves cold treatment for the majority of our export markets," according to an ASX announcement from Costa. "This is being well managed and expected cost over the season is between A$6m to A$8m."
The group said the Riverland crop was tracking close to forecast, with fruit quality above expectations and a higher percentage of first grade fruit being packed ahead of same point in 2020.
The company's acquisition of 2PH Farms, completed in July, has also proven beneficial.
"The 2PH season is progressing positively, with favourable pricing in all export markets, especially China," the ASX announcement said. "Product is attracting a price premium in Guangzhou and Shanghai wholesale markets above that of competing citrus brands."
Positive momentum
Looking ahead, Hallahan said the group was on track to deliver on its full-year financial forecast.
"We have confirmed our full year forecast, which is in line with that disclosed at the 2PH acquisition and capital raise, which includes CY21 EBITDA-S and NPAT-S being marginally ahead of CY20 (2020 calendar year)," Hallahan explained.
"There is still a significant amount of domestic activity to occur over the second half, with positive momentum driving the remainder of the citrus season, especially with strong export into Japan, China and Korea, and the main berry season expected to deliver healthy growth versus previous comparable period."