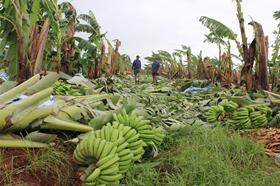 The Australian Banana Growers' Council (ABGC) is working with growers and authorities to assess damage caused by a tropical low that hit Far North Queensland on 1 March, and that has since developed into Tropical Cyclone Niran.
While TC Niran has not crossed the coast, the cyclonic winds have wreaked havoc on many banana farms in Far North Queensland.
Stephen Lowe, chair of the ABGC, said it's too early to give an overall estimate of damage.
"We will have a better idea of how widespread the impact is in coming days," he said.
"However, from what we understand, most of the Cassowary Coast Region (except for Tully) has been heavily affected, with crop losses between 20-100 per cent from Fishery Falls to Cowley, Mission Beach, parts of El Arish and inland across to Walkamin and the Atherton Tablelands," said Lowe.
"Growers around Innisfail particularly at Boogan and Wangan have reported up to 100 per cent crop losses. So far, there has been no reported damage in the Tully Valley.
Lowe said the entire ABGC felt for the farmers affected, adding the weather was yet another bitter blow to growers who have suffered enormously with consecutive years of low prices and more recently critical worker shortages due to Covid-19.
"I know there were a lot of growers out there that were extremely distressed even before this weather event and I would imagine this has only compounded their hardship."
Damage assessments being undertaken by ABGC and the Department of Agriculture and Fisheries (DAF) are the first step in the process for disaster relief. Information will also be collated from other industries and sent to DAF head office to make a case to the Australian government for disaster assistance.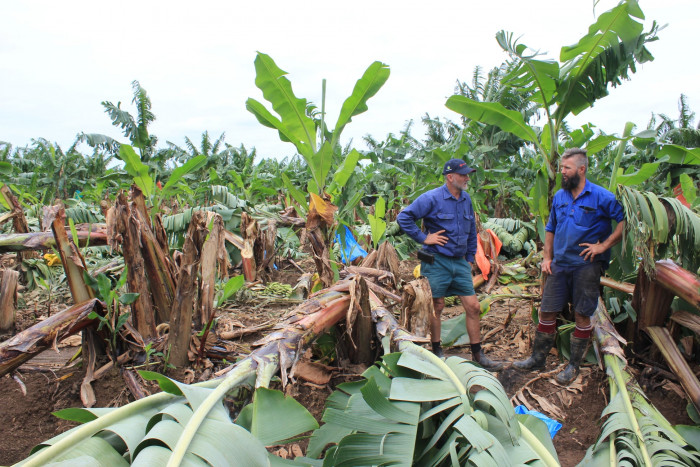 The ABGC said it is working closely with DAF on these assessments and has also begun making representations to relevant authorities on behalf of growers affected.
"As growers we know that we are at the mercy of mother nature, however, to suffer a succession of knocks is hard to bounce back from," Lowe said.
"As an industry we are again feeling for those who will have to rebuild after this latest weather event."
The varying levels of damage, combined with the spread of farms across FNQ, means consumers shouldn't expect price or supply issues in the short term.