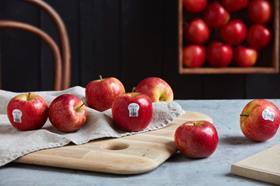 For its third year at commercial volumes in Australia, Envy apples will be on the shelves of Australian retailer, Woolworths, through grower Montague beginning this month.
This season, the Envy crop has increased by one third, according to family-owned fresh produce company, Montague, adding that its greatest quality is the apple's size, sweetness and bright flesh.
"The extremely good growing conditions from January through to April has seen excellent size and colour develop in Envy crops across the country - we are dedicated to offering Australian customers with high quality flavours they demand," said Montague director, Scott Montague.
Montague has again partnered with Woolworths in an exclusive supply deal which began in the apple's second commercial season last year.
Woolworths' apple category manager, Andrew Camilleri, said the premium apple variety is an excellent addition to the Woolworths apple range.
Envy is a cross-breed between a Braeburn and Royal Gala apple, and the sister variety to the Jazz apple.
The Envy brand is most recognisable across Asia where Montague said it has achieved incredible demand.