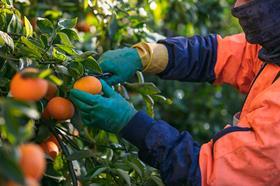 The Fair Work Commission has ruled workers picking fruit on a piece rate must be guaranteed a minimum wage under the Horticulture Award.
The minimum casual rate currently sits at A$25.41 per hour. In its finding, the Fair Work Commission's full bench 'expressed the view that the existing pieceworker provisions in the Horticulture Award are not fit for purpose'.
'They do not provide a fair and relevant minimum safety net as required by the Act,' it said. 'The Full Bench was satisfied that the insertion of a minimum wage floor with consequential time recording provisions in the piecework clause is necessary to ensure that the Horticulture Award achieves the modern awards objective.'
Australian Workers Union (AWU) national secretary Dan Walton described the ruling as one of the most significant industrial decisions of modern times.
'I believe this decision ranks among the great victories of our union's 135-year history,' Walton said. 'Fruit pickers in Australia have been routinely and systemically exploited and underpaid.
'Too many farmers have been able to manipulate the piece rate system to establish pay and conditions far beneath Australian standards.
'Now it will be easy for workers — even if they don't have good English language skills or Australian connections — to understand if they're being ripped off. From now on if you're making less than A$25 an hour fruit picking in Australia your boss is breaking the law and stealing from you.'
But the ruling has been met with some pushback, including from the National Farmers' Federation, which argued it could drive farmers out of business.
Chief executive of industry body, Growcom, Stephen Barnard, said the decision was a blow for many employers. "They will no longer able to afford to offer piecerates because they can't pay hourly rates for unproductive workers or carry the extra administration burden," he said.
'Most significantly the decision is also another blow for individual workers within our industry who are only trying to get ahead, and who will now have far fewer employment options where they can make great money through their own hard work and initiative."
Barnard acknowledged labour remains the most significant input cost for many farmers, saying: "If they can't wear these increased costs of offering piecerates, then our real concern is that we'll see another exodus from horticulture of the most willing and motivated workers right in the middle of a severe labour shortage when we need them the most.
'And looking forward, we need more employers offering rewarding peicerate work if we're going to attract more Australians to our industry, and also more workers through Pacific labour programs and the new Agriculture Visa."