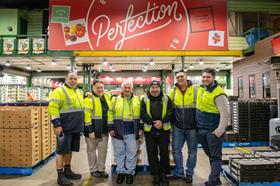 Sydney Markets Limited has announced the winners of the 2021 Sydney Markets Fresh Awards virtually, in a first for the event.
Sydney Markets Limited chief executive Brad Latham and chairman of the board John Pearson revealed the 16 winners from the top florists, greengrocers, providores, wholesalers and content creators from across New South Wales and the Australian Capital Territory.
Winners included Perfection Fresh as wholesaler of the year; Gourmet Herbs as grower of the year; Ziggy's Fresh as greengrocer of the year; Jannali Quality Fruit and Vegetables as best small business; Mountain Fresh Growers as best medium business; Tom's Superfruits as best large business and more.
The Fresh Awards presentation ceremony is scheduled to follow on 17 November on the Markets floor.
Latham said the awards recognised the hard work and dedication of those working within the fresh produce and floral industries, particularly over the last two years.
"The Fresh Award contenders are some of the heroes of our industry. They have had to navigate some of the most challenging times in business with many not only surviving, but thriving. These small businesses have remained cornerstones of our local communities, pivoting and adapting to ensure they can continue to service their customers," said Latham.
"These businesses are a credit to themselves, and to the industry in general. They work tirelessly to deliver top quality produce, customer service and value for money. We were determined to give our Fresh Awards finalists and winners the moment in the spotlight they deserve and celebrate their commitment to our industry."