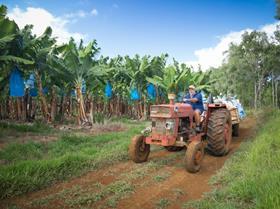 Queensland horticulture body Growcom has launched its Hort360 Reef Certification programme, a key component of the Hort360 Great Barrier Reef (Hort360 GBR) Best Management Practice (BMP) programme, supported by the Queensland Government.
Queensland horticulture growers the participate and gain certification through the programme will have the opportunity to increase confidence and certainty in managing their soil, water and crops while achieving a good financial return.
Hort360 manager, Scott Wallace said Hort360 Reef Certification would provide a quality, credible certification pathway for horticulture growers to demonstrate their environmental stewardship and industry best practice standards in the Great Barrier Reef catchments.
"The intent to establishing a Hort360 Reef Certification is not to add to, but align and leverage, current systems used by horticulture businesses which specifically provide a water quality outcome," explained Wallace.
"The Hort360 Reef Certification framework specifically focusses on environmental stewardship and industry best practice standards in reef catchments that will deliver improved water quality," he added.
According to Growcom, Hort360 is an easy to use, step-by-step, facilitated risk assessment tool designed to give growers a 360-degree view of their farm business operations.
Queensland minister for Environment and the Great Barrier Reef, and minister for Science Leeanne Enoch encouraged horticulture businesses to start working towards Hort360 Reef Certification.
"The Palaszczuk government is investing over A$2m in the Hort360 Great Barrier Reef Best Management Practice programme, to support farmers in their efforts to improve the quality of water flowing to the Reef," said Enoch.
"Through this certification, businesses will be acknowledged for protecting the reef and supporting the community."