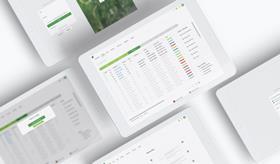 Queensland horticulture body Growcom has unveiled a new look for its chemical database Infopest.
The updated platform lists all chemicals registered and approved by the Australian Pesticides and Veterinary Medicines Authority (APVMA).
It has been designed to deliver accurate, up-to-date information for the effective control of weeds, pests, and diseases in a wide range of crops and livestock.
Growcom chief executive, Stephen Barnard, said the company has been working with horticultural farm management software company Apungaover the past year to redevelop the Infopest product.
"The team atApungahas been fantastic to work with and have really brought the Infopest product to life," Barnard said.
"Growcom has owned and operated Infopest since 2012 and we are excited to bring this new and improved platform to a wide range of users in theag-vetsector."
The new look Infopest boasts improved functionality and a suite of new features.Users can save their favourite searchterms, look up previous search results,customisetheir display and filter items of interest.
Users can also view labels, permits and safety data sheetswhere they are available.An appis also in the pipeline and will be released later in the year.