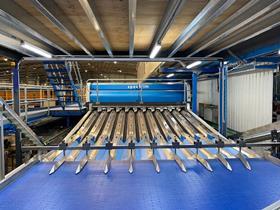 Mildura Fruit Company (MFC) staff are eagerly awaiting completion of the commissioning of a new ten-lane Compac sorting machine.
The sorter, set up for oranges, has been installed with the latest Spectrim grading technology. The grader will not only provide extra horsepower but will also result in a much more consistent pack, according to MFC's sales manager, Marcus Scott.
The significant investment forms part of a major capital upgrade programme that commenced with the installation of new grader and packing stations for mandarins prior to the 2018 season.
Despite issues with a shortage of seasonal labour resulting from Covid-19 and expected shipping interruptions, Scott says MFC is looking forward to the 2021 citrus season, which recently commenced with the M7 navel variety.