Mildura Fruit Company has big plans for new seedless mandarin variety hitting international and domestic markets this season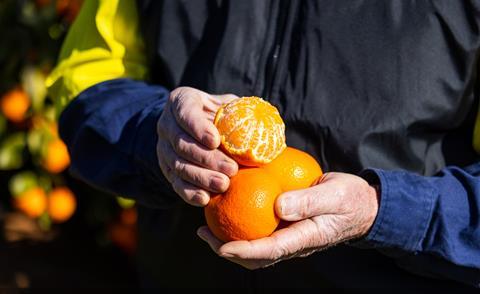 Mildura Fruit Company's (MFC) 2022 citrus season has been bolstered by the first commercial harvest of a new seedless mandarin.
Ruby GS, branded as Dandy Mandy, was bred by MFC and the leading Australian citrus packer-exporter owns exclusive rights to the variety.
The juicy, seedless fruit has a smooth easy peel skin, a mild flavour and a crunchy texture. Dandy Mandy is harvested between mid-June through to mid- to late-July. MFC's sales and marketing manager, Marcus Scott, said the new variety will provide an excellent addition to the company's offering.
"For years we have been told by our customers both on the domestic and export market to find a mandarin that comes in a little earlier than the Tango/Afourer and has better shelf-life than the old Imperial," explained Scott.
"If customer response this season is anything to go by we have certainly achieved this, as it really does tick all the boxes. With exclusive plantings by MFC growers governed by MFC quality standards ensuring consistency across all grades, the variety is expected to gain great customer acceptance."
Dandy Mandy is currently being sold in supermarkets across China, Hong Kong, Singapore and Vietnam, as well as in Coles Victoria domestically. As production ramps up over the coming seasons, MFC expects to deliver more fruit into these markets and expand further across Asia.
MFC's trading and communications assistant, Nicole Alicastro, said there will be a comprehensive promotional campaign to support this growth. The campaign aims to help customers and consumers become acquainted with the new variety.
"Over the next few years, MFC will have a big focus on growing the Dandy Mandy brand. We want to emphasise that this is an Australian-grown variety," said Alicastro. "Promotion will be done by advertising on social media channels such as WeChat and using in-store promotional materials to get the word out."