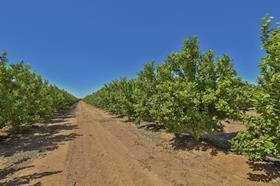 Montague has entered the citrus and grape categories after acquiring operational control Piscioneri Farms in conjunction with property fund manager​ Primewest.
The 93ha Mildura property features 84ha of planted crops including Crimson, Luisco, Allison, Ivory, Menindee and Thompson table grapes as well as Eureka lemons, Afourer mandarins and Cara Cara, and Fisher Navel oranges.
Montague has been a staple of the Australian apple and stonefruit trade and managing director Scott Montague said the company was excited about the new opportunity.
"We are thrilled for Montague to enter the grape and citrus categories through the management of Piscioneri Farms in Mildura," said Scott Montague.
"These varieties will add high quality additions to our existing portfolio of apples and stonefruits."
Tim Montague, general manager orchards of Montague, was looking forward to working with the Piscioneri family who will provide support through the transition period.
"The team at Montague are passionate about providing Australians with the highest quality fruit grown with leading farming practices," said Tim Montague.
"Working with the Piscioneri family, we believe we can use our years of connection to the land and growing best practice to seamlessly transition into the grape and citrus categories."
The Mildura property includes an aggregation of six properties in the Sunraysia district and features modern irrigation and trellis systems, as well as multiple residences including backpackers' quarters.