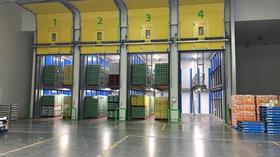 Arcella Bananas Company has gained access to Montague's state-of-the-art produce and packing facility in Brisbane to ripen its bananas after the companies signed an initial two-year lease.
Montague opened its produce facility at the Brisbane Markets in Rocklea, Queensland in April 2019. The 5,578m2 purpose-built facility is a fully automated, temperature-controlled environment, complete with a cold storage space monitored 24/7, and ripening rooms equipped with the latest European tarpless technology.
The specialised tarpless technology reduces ethylene and airborne pathogens and offers control over the banana ripening process, a feature that captured the attention of Arcella Bananas Company, according to Dom Arcella.
"We are delighted to team-up with Montague to utilise their world-class facilities and access this new technology to ripen our Arcella Bananas. We think consumers will be very pleased by the outstanding quality and flavour of the fruit ripened in Rocklea," Arcella said.
Hamish Montague, general manager of Montague Queensland, said supporting local growers and businesses like Arcella Bananas was of great importance to Montague.
"We will continue to innovate in fresh produce industries, delivering excellent produce for our consumers while striving to be energy-efficient and environmentally-friendly," said Montague.
Arcella Bananas is known for its Tropicana brand of bananas and supplies bananas from its three banana plantations located in Mareeba, Innisfail and Upper Daradgee, along with an extended network of growers in Queensland.