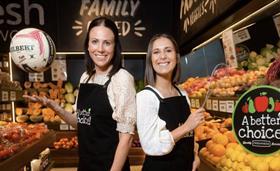 Fruit and vegetable stores across Australia are rallying behind the country's next generation of sports stars as part of a new programme from 'A better choice!'.
The Local Youth Sports Initiative will see greengrocers and independent retailers hand out over A$25,000 worth of sponsorships and A$7,000 in runner-up awards to budding athletes and sporting clubs.
James Patrick, national programme manager of 'A better choice!', said the initiative would provide a much-needed funding stream in the wake of the Covid-19 pandemic.
"With season cancellations, inability to train and funding cuts, our networks spoke out wishing that there was more they could do for the smallest members of their local community," said Patrick.
"We agreed, and that's how the Local Youth Sports Initiative was created. The little guys, supporting the little guys, in big ways- it's only natural."
The initiative is being supported by Olympic beach volleyball silver medallist Mariafe Artacho del Solar, World Champion netballer Natalie von Bertouch and Australian MasterChef runner-up Laura Sharrad. All three look forward to helping young athletes kickstart their new seasons.
"It's been heartbreaking to see youth sport around the country put on hold," said von Bertouch. "As a mum with three young kids, I know the impact this would have on them. I'm really excited to team up with local fruit and veg stores across the country to help kids start their seasons off on the right foot."
The competition is open to athletes and youth sporting clubs across New South Wales, Australian Capital Territory, Victoria, Tasmania, South Australia, Queensland and Western Australia.
Communities are encourage to nominate their local sporting club, team or an individual athlete by scanning a QR code in participating stores or visiting the competition's web page. In 500 characters or less, entrants must detail how the sponsorship will help the nominee.
Patrick said the initiative reflects the long-standing connection between local fruit and vegetable shops and community sport.
"Whether it's donating half-time oranges or providing the quality food that keeps these little athletes strong, the connection between our retailers and their sporting community has traditionally always gone hand-in-hand," said Patrick.
'A better choice!' is a national programme designed to encourage consumers to shop for fresh produce at their local independent retailer. A joint initiative by industry group Fresh Markets Australia and the Central Markets Association of Australia, the programme supports more than 550 retailers across Australia.