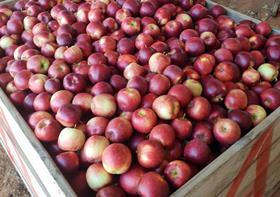 Australia's N&A Group has high hopes for two new proprietary apple varieties, Isaaq and Swing, which will increase its presence in the organic category.
The group has secured the Australian master licenses for both trademarked varieties.
Developed in Northern Italy by Kiku Variety Management, Isaaq is the "ideal snacking apple," according to N&AGroup's HannahCathels.
"It's small size profile, enticingly red skin and sweet, refreshing flavour makes it the perfect addition to school lunchboxes or for a convenient snack at home," said Cathels.
Swing is a bi-coloured apple with a well-balanced sweet and acid flavour profile. It was developed in France by the Red Moon company.
"It's robust and disease resistant characteristics are well-suited to organic production methods," Cathels said about Swing.
With the organic category consistently growing in Australia, Isaaq and Swing will form an important part of N&A Group's apple business moving forward.
"Both apples are naturally resistant to scab, fire blight and other diseases, and are ideal for organic production with a naturally long shelf life," Cathels said.
"We see the development of new varieties as one of the most important focuses for our business and for the apple and pear category for the future."
Read more about N&A Group's plans for the apple category in the upcoming Autumn edition of Produce Plus Magazine.