Flat peach and nectarine series to be sold through select retailers
Australian consumers are set to get their first taste of locally-grown flat peaches and nectarines from the Ondine series.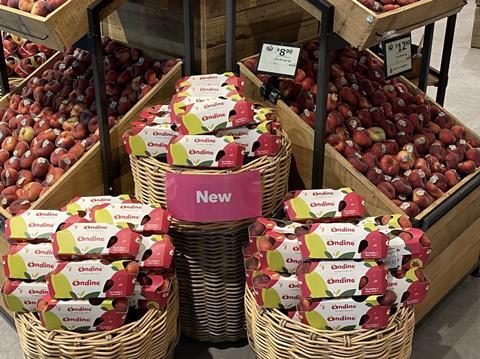 WA Farm Direct and N&A Group have launched the stonefruit offering this week, with Australian-grown fruit being sold through select retailers across the country.
Jenny Mercer of WA Farm Direct said the Ondine series was an exciting addition to the stonefruit category in Australia, providing consumers with a perfect flavour balance, vibrant skin colours and a unique flat shape.
"Ondine is perfectly positioned to capture new customers from the families and gourmet snacking markets," Mercer explained. "Its size profile and unique flat shape make it an ideal snack fruit, being easier to hold than conventional round peaches or nectarines. It's exceptional flavour and unusual appearance means it can also be positioned as a gourmet snacking product."
Another key differentiator is the extended supply window that Ondine will offer.
"Ondine will be available from December through till March, giving consumers more opportunities each season to try the variety for the first time, and then to come back and purchase it again," Mercer said.
The Ondine varieties were originally developed in France by the Maillard family of ASF. The late Arsene Maillard, and his wife Laurence, dedicated 25 years to developing new fruit varieties that satisfy a rigorous selection criteria.
Around 2,500ha of Ondine flat peaches and nectarines have been planted worldwide, with production spread across Spain, France, Italy, Greece, Chile, South Africa and Australia.
At just two years old, Australian commercial plantings of Ondine are still relatively young. This, coupled with some extreme weather events during the growing season, has influenced WA Farm Direct and N&A Group's initial sales plans.
"Australian-grown Ondine will be available through domestic sales channels exclusively this year," said Rob Cathels of N&A Group. "With select retailers now stocking Ondine, there will be more opportunities for Australians to try an Ondine flat peach or nectarine this year."
As the Australian production base expands, WA Farm Direct and N&A Group believe there will be significant opportunities for Ondine in export markets.