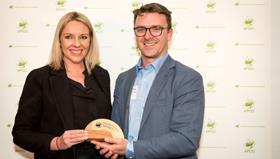 Brambles subsidiary Chep Australia has won the 2017 Packaging Manufacturer Award.
Hosted by the Australian Packaging Covenant Organisation in Melbourne on 23 August, the annual sustainable packaging awards recognise achievements in design, recycling and packaging stewardship.
Chep Australia was lauded for its work on developing its share and reuse business model, which reduces waste and increases efficiency in the supply chain, according to Lachlan Feggans, senior manager sustainability at Chep.
"When customers use our reusable plastic containers, bins and pallets, over single-use products, they are reducing their environmental footprint and supporting a sustainable future." said Feggans.
"It's a unique example of a virtuous cycle because the more our customers share and reuse our platforms, the greater the efficiencies and environmental benefits of our networks."
Brooke Donnelly, chief executive officer at the Australian Packaging Covenant, said that Chep was recognised for its "100 per cent diversion from landfill rate for timber and plastic".
"With the spotlight now firmly on waste and recycling there has never been a better time for Australian businesses to consciously reduce their environmental footprint,' Donnelly said.
"To effectively minimise waste going to landfill, sustainable packaging and supply chains are crucial. While there is no denying that much work still needs to be done – I feel it's also important to acknowledge that there are great steps already being taken…Ultimately, we need to work together if we're to collectively solve the challenge of waste management."
Chep is also a signatory to the Australia Packaging Covenant, which is releasing its new reporting framework in November this year.