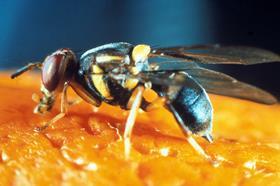 Plant Health Australia (PHA) has revamped three of its online courses to enhance learning experiences.
The courses – Plant Biosecurity in Australia and Pest Reporting and Responses (one each for growers and researchers) – now have improved graphics and interactive elements such as pop-up text boxes and flip text boxes.
The Plant Biosecurity in Australia course provides a summary of the Australian biosecurity system and how emergency responses to plant pests are managed under the Emergency Plant Pest Response Deed (EPPRD). This course replaces the PHA Foundation course.
"This course is aimed at anyone interested in plant biosecurity in Australia and is a prerequisite course for biosecurity training delivered by Tocal College as part of the Biosecurity Response Training Australia programme," said Susanna Driessen, PHA's general manager, emergency response.
The Growers – Pest Reporting and Responses course is aimed at growers, farm workers and agronomists. It provides a better understanding of reporting and responding to plant pests.
The Researchers – Pest Reporting and Responses course highlights the benefits of biosecurity, how to implement biosecurity practices and how to report a new or unusual pests or disease.
The courses are delivered via PHA's Biosecurity Online Training (BOLT) platform. Access to the BOLT platform is free, with courses subject to regular reviews to ensure they remain current and relevant.