Australian fruit company expects consumer demand to rebuild
Piñata Farms has begun its Far North Queensland pineapple harvest.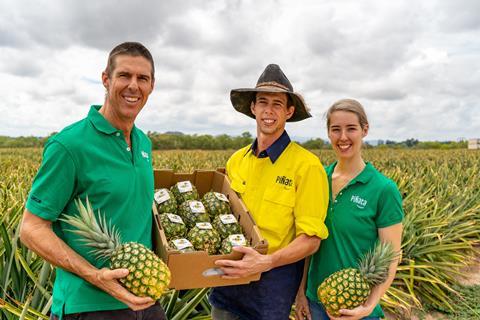 Stephen Scurr, general manager tropical at Piñata Farms, said full production in the Paddy's Green district was expected by early November, as the harvest at the company's main growing region at Wamuran, south-east Queensland, ceased for summer.
"Far North Queensland had favourable pineapple-growing conditions in the lead-up to the season," Scurr explained. "We had some unseasonal rain during winter which meant we didn't have to irrigate as much, resulting in water and electricity savings.
"Fortunately, we didn't get the wet season that many other parts of Australia experienced. At the Sunshine Coast, incessant rain for much of the year affected picking and planting."
Despite the favourable production conditions, Scurr said volumes out of Far North Queensland would be smaller than previous seasons.
"Due to a shortage of planting material in the north 18 months ago, and a decrease in demand due to Covid during the past few summers, we reduced plantings and will produce slightly less fruit this season – as will all other pineapple growers," he explained.
Scurr said Piñata Farms expected demand to begin to recover as consumers returned to shopping in-store.
"Pineapples are one of those fresh produce purchases consumers like to pick for themselves," Scurr said. "If the fruit looks great on display, people want to choose the right-size pineapple for their household, smell it and read the label.
"During Covid waves, consumers did more online shopping than usual and this wasn't as favourable for many fruits, including pineapples."
Seasonal workers from Vanuatu have been recruited under Australia's Seasonal Worker Programme to assist Piñata Farms with this season's harvest.