Central Brisbane site used to launch Queensland's Year of Horticulture
Brisbane's Queens Gardens was transformed into a temporary pineapple plantation this morning (3 February).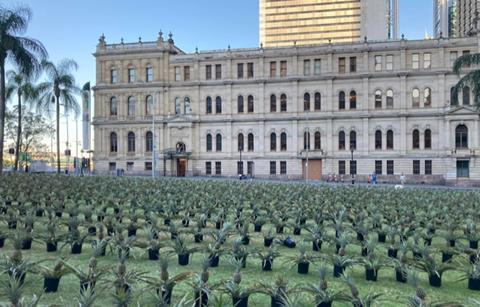 The site was used to launch Queensland's Year of Horticulture campaign.
Organised by industry body Queensland Fruit & Vegetable Growers (QFVG) the pineapple is the first product to be highlighted as part of the year-long campaign.
"This kick-off event is dedicated to pineapples due to the immense impact to the growers as a result of last year's weather event," said QFVG chief executive Rachel Chambers.
"The unseasonal temperatures and huge rainfall caused the majority of plants in the South-East (and some into Central Queensland) to flower at the same time meaning growers are picking their entire crop right now, instead of picking throughout the year."
The pop-up pineapple plot in Queens Gardens was recreated from historical documents.
"On 10 February 1842 Governor Gipps declared Moreton Bay open for free settlement," Chambers said. "A map drawn in 1844 by CF Gerler shows a pineapple garden known as 'Slates Pineapple Garden' where Treasury Brisbane now sits.
"Today, Queensland grows 99 per cent of the nation's pineapples, worth more than A$45m.
"By activating places and spaces that are no longer synonymous with horticulture we can heighten awareness amongst consumers of the immense history and the important part this industry has played, and will continue to play, in our state's economy and way of life."
The Year of Horticulture aims to raise awareness of the state's 104 various fruit, vegetable and nut crops.
"Over the next 12 months we will celebrate all things horticulture; educate consumers, retailers, and the next generation of growers; and advocate strongly and loudly for an industry none of us can live without," Chambers said.
"While we will be having fun, there is a serious side and we want it be a year that all that participate in the horticulture industry can be proud of."
QFVG's new arm
Queensland Fruit & Vegetable Growers ­– which has traded under the name Growcom since 2004 – also launched its new advocacy and engagement arm, Horticulture Queensland, today (3 February).
Chambers said the new direction was driven by member feedback.
"Our members have spoken, and we've listened," Chambers said. "Our members rightfully expect loud, strong, and brave advocacy which fundamentally requires a different structure to the delivery of projects and programmes. Because of this feedback we have decided to run two unique divisions of QFVG to reflect its two distinct functions.
"The easiest way to think of the new structure is to think of QFVG as the head – it's the board, the employer of staff, and the legal entity. Horticulture Queensland is our new dedicated advocacy arm, while Growcom will be retained to serve as the programs and projects delivery arm. One head, two arms."
Chambers said existing Growcom memberships would automatically transfer over to Horticulture Queensland, while participants in Growcom's programmes and projects would remain unchange.