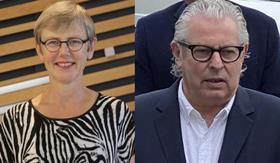 New Zealand-based research and development organisation PlantTech has announced the appointment of Mark Gilbert and Gillian Dobbie to its board.
Mark Gilbert is an experienced board director, with previous senior executive leadership experience in business, meanwhile, Gillian Dobbie is an experienced and highly regarded research and academic leader.
Board chairman James Buwalda said the two appointments reflect PlantTech's evolution as a research institute, with a focus on achieving positive commercial outcomes through translational research.
"Gill communicates science in a direct and accessible style; she will strengthen the quality and integrity of the board's governance for PlantTech's research," said Buwalda.
"Mark, meanwhile, will bring a strong governance focus to strategy and performance."
Gilbert has extensive governance and commercial experience and currently serves as deputy chair of Appliance Connexion and the director of Firstflex. Previously, Gilbert was a director of Auckland Transport and the Lotteries Commission.
Dobbie is currently chair of the PlantTech Science Advisory Committee, deputy chair of the Marsden Fund Council, board member for Precision Driven Health and director of The University of Auckland's ICT Postgraduate School. She is also a professor of computer science, with active research in data mining and data stream processing.
Dobbie said PlantTech is taking technology to the next level with the inclusion of artificial intelligence.
"Importantly, we are doing it right with the industry centre stage. The opportunities ahead are enormous, with the development of novel technologies that can bring better and more integrated information to orchardists, packhouses and industry bodiesin a timely manner," said Dobbie.