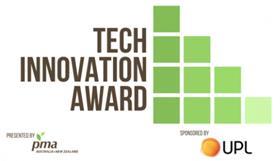 PMA Australia-New Zealand (PMA A-NZ) has announced global food systems specialist UPL as the sponsor of its Tech Innovation Award.
In its inaugural year, the award will celebrate outstanding achievement in the field of technology and innovation within the Australasian fresh produce and floral industries.
The award will be judged on each innovator's ability to develop and execute an effective initiative that addresses challenges or opportunities within the industry. The initiative could be anything from a product value-add to more advanced technology.
The selection criteria includes the uniqueness and sustainability of the concept, the value it provides to the Australasian fresh produce industry by addressing existing challenges, it's delivery throughout the industry and its immediate and long-term impact.
"We're seeing a lot of exciting technological and innovative developments coming out of the fresh produce industry and it's exciting to have the Tech Innovation Award recognising these achievements," said PMA A-NZ's technology and innovation manager, Hannah White.
"Having the support of UPL, as a leading solution provider in the horticultural sector, is a testament to the innovative developments improving efficiency within our industry and driving it forward. We're delighted to have them onboard for the Award this year to celebrate the leaders in this field."
A dynamic business providing total agricultural solutions to horticultural growers, UPL recognises the important role innovation plays within the fresh produce industry.
"UPL is excited to sponsor and support the inaugural PMA A-NZ Tech Innovation Award for 2020" says Ian Cass, marketing and business development manager of UPL Australia.
"At UPL we are all about fostering collaborations across the industry and by supporting new technologies through such initiatives as the Tech Innovation award we can help get technology advances to market faster and drive transformational changes we need to ensure a safer sustainable agricultural footprint to keep growers in business and feed generations to come."
The PMA A-NZ Tech Innovation Award is open to any individual or business, with nominees sought from all parts of the fresh produce supply chain.
A showcase and award presentation will be conducted via a webinar, which will stream live in June (date to be advertised).
Self-nominations and nominations by third parties are welcome and must be received by 8 May 2020
For more information, visithttps://bit.ly/2wDe1OJ